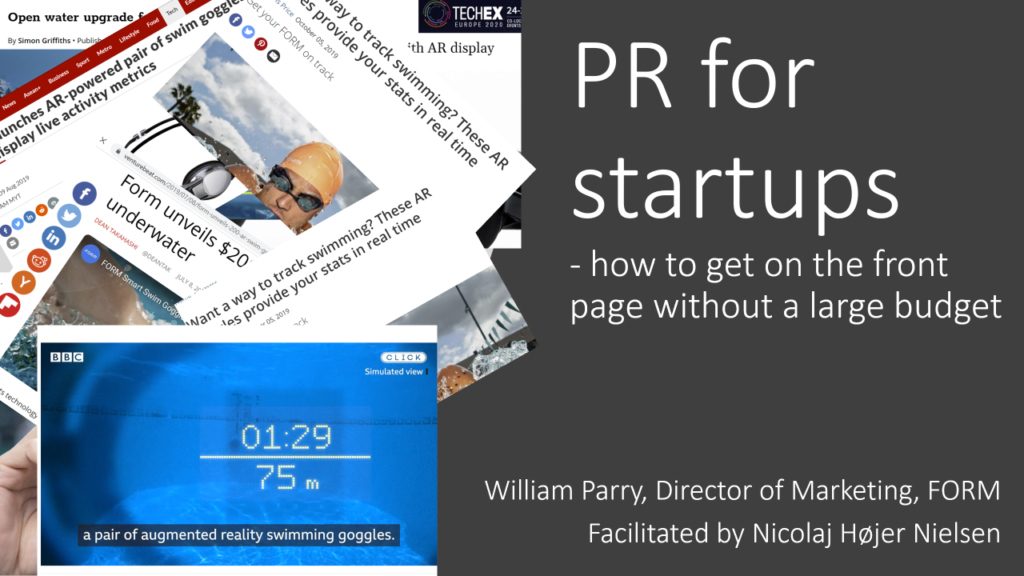 Webinar: PR for startups – how to get on the front page without a large budget
We all know the value of getting your startup mentioned in the media. It increases awareness, credibility and it might even result in customer leads.
But how do you do it in real life? Especially if you are a startup without a huge budget to spend on PR consultants?
To answer this question, I've reached out to a startup that has nailed PR: FORM – the maker of AR swim goggles. Their Director of Marketing, William Parry, will share tips and tricks on how to be getting PR coverage.
Target group: Startup founders and employees interesting in how to use PR
What you will learn? Whether you're a small business with a modest budget or big company with lots of resources there will be actionable approaches to how you can secure great PR coverage. The key is getting creative!
The webinar will take place Tuesday June 30th 17.00-18.00 CEST (Central European Summer Time) and will be recorded.
Sign up for the webinar via the form below:
William Parry
Director of Marketing, FORM
After moving to Vancouver, Canada from the UK in early 2012, Will needed to get a job. With a degree in History, one of the last places you may have thought would've been a good fit was a tech startup. 8 years on Will has experienced a great deal, from releasing multiple groundbreaking augmented reality sports eyewear products, experiencing acquisition and all it entails by one of the tech mega-brands, to going back to square one and doing it all again with a new startup venture. Along the way, Will has secured substantial coverage in leading publications globally at important times for these companies and products. While he is more than happy to share tactics and strategies that have lead to great results, while not having to spend a lot on achieving these results too!